New England Biolabs is a verified supplier
New England Biolabs manufactures this product
| | |
| --- | --- |
| T4 RNA Ligase 2 750 units | |
---
---
Structured Review
New England Biolabs
t4 rna ligase 2 truncated buffer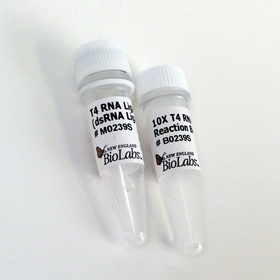 T4 RNA Ligase 2 750 units
https://www.bioz.com/result/t4 rna ligase 2 truncated buffer/product/New England Biolabs
Average

99

stars, based on

2

article reviews
Price from $

9.99

to $

1999.99
t4 rna ligase 2 truncated buffer
- by
Bioz Stars
, 2020-07
---
Related Products / Commonly Used Together
---
Images
1) Product Images from "Uridylation by TUT4/7 Restricts Retrotransposition of Human LINE-1s"
Article Title: Uridylation by TUT4/7 Restricts Retrotransposition of Human LINE-1s
Journal: Cell
doi: 10.1016/j.cell.2018.07.022
Figure Legend Snippet:
Graphical Visualization of the 3′ RACE-Seq Approach, Related to Figure 2 (A) Graphical representation of 3′ RACE-seq library preparation and the oligonucleotides used. First, the 3′ adaptor RA3_15N was joined to the 3′ end of RNA by enzymatic ligation. The adaptor has: (i) 5′ rApp modification for efficient and specific ligation by the truncated T4 RNA ligase 2, (ii) delimiter sequence to be used in bioinformatics analyses to exclude RT and PCR artifacts (CTGAC, highlighted in violet), (iii) unique 15N barcode for individual transcript barcoding (highlighted in green), (iv) anchor sequence to pair with the reverse transcription primer (underlined) and (v) dideoxyC on the 3′ end to prevent concatamer formation. The RNA ligated to the adaptor sequence was purified from excess adaptor and reverse transcription was performed with the RT primer, which is compatible with Illumina sequencing and has: (i) sequences to base-pair with the adaptor (underlined), (ii) 6-nucleotide barcode for sample barcoding (highlighted in red), (iii) sequences that base pair with the universal outer primer for nested PCR (blue). Libraries were generated by nested PCR with 2 outer forward primers (F1 and F2) and a single universal reverse primer (uni rev). PCR amplicons of first and second PCRs were purified from excess primers on AmPure beads (Agencourt) before beginning the next step. (B) Flowchart of the bioinformatics approach to 3′ RACE-seq data analysis. The procedure starts at the top. Datasets are shown in rectangles. Software used is depicted in hexagons.
Techniques Used: Ligation, Modification, Sequencing, Polymerase Chain Reaction, Purification, Nested PCR, Generated, Software
Related Articles
other:
Article Title: Apoptotic signals induce specific degradation of ribosomal RNA in yeast
Article Snippet: To this end, DNA 'anchor' oligonucleotide (W242) was ligated with T4 RNA ligase to total RNA from untreated and treated W303 cells to prepare cDNA using a primer specific for the anchor (W243).
Article Title: Addition of non-genomically encoded nucleotides to the 3?-terminus of maize mitochondrial mRNAs: truncated rps12 mRNAs frequently terminate with CCA
Article Snippet: T4 RNA ligase is reported to require a single unpaired nucleotide at the 3′-terminus.
Ligation:
Article Title: A general and efficient approach for the construction of RNA oligonucleotides containing a 5?-phosphorothiolate linkage
Article Snippet: .. T4 RNA ligase catalyzes the ligation of an oligonucleotide bearing a 5′ phosphate group (the donor) to a second oligonucleotide bearing a free 3′-OH group (the acceptor). ..
Article Title: Cloning and characterization of the extreme 5?-terminal sequences of the RNA genomes of GB virus C/hepatitis G virus
Article Snippet: .. The ligation solution contained 5 pg of the synthetic oligonucleotide adapter, 50 mM Tris·HCl (pH 7.8), 10 mM MgCl2 , 1 mM 2-mercaptoethanol, 1 mM ATP, 20 units of human placenta ribonuclease inhibitor (RNasin, Promega), and 20 units of T4 RNA ligase (New England BioLabs). ..
Article Title: A fast, efficient and sequence-independent method for flexible multiple segmental isotope labeling of RNA using ribozyme and RNase H cleavage
Article Snippet: .. A typical large-scale ligation reaction using T4 RNA ligase was 40 μM in both RNA fragments in 1× NEB ligation buffer (50 mM Tris–HCl pH = 7.8, 1 mM ATP, 10 mM MgCl2 , 10 mM DTT), 1x in BSA using 5 U T4 RNA ligase per nmol of RNA to be ligated. .. A typical large-scale ligation reaction using T4 DNA ligase was 10 μM in RNA fragments, 15 μM in DNA splint oligo, 10% PEG-4000 in 40 mM Tris–HCl pH = 7.8, 0.5 mM ATP, 10 mM MgCl2 , 10 mM DTT using 50 U T4 DNA ligase (fermentas) per nmol of RNA to be ligated or 2 μM final concentration of in-house produced T4 DNA ligase.