New England Biolabs is a verified supplier
T4 Polynucleotide Kinase 3 phosphatase minus

T4 Polynucleotide Kinase 3 phosphatase minus 1 000 units
---
---
Structured Review
New England Biolabs
t4 pnk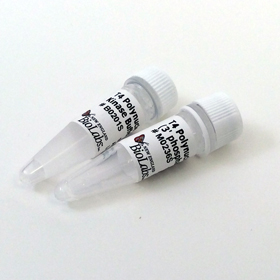 T4 Polynucleotide Kinase 3 phosphatase minus 1 000 units
https://www.bioz.com/result/t4 pnk/product/New England Biolabs
Average

90

stars, based on

6

article reviews
Price from $

9.99

to $

1999.99
t4 pnk
- by
Bioz Stars
, 2020-01
---
Images
1) Product Images from "Purification of cross-linked RNA-protein complexes by phenol-toluol extraction"
Article Title: Purification of cross-linked RNA-protein complexes by phenol-toluol extraction
Journal: Nature Communications
doi: 10.1038/s41467-019-08942-3
Figure Legend Snippet:
PTex recovers bacterial RNPs. a Salmonella Typhimurium SL1344 Hfq-FLAG was UV-cross-linked and HOT-PTex was performed to purify bacterial RNPs. b Western blot using an anti-FLAG antibody demonstrates recovery of Hfq monomers linked to RNA. Note that the physiologically active Hfq hexamer partially withstands SDS-PAGE conditions 49 and that this complex is also enriched after PTex. c RNPs in Salmonella were purified by PTex globally. 172 Proteins enriched after UV-cross-linking (PTex CL) contain ribosomal proteins (transparent red), known RBPs (red) and DNA-binders (orange). Individual enriched proteins not known to associate with RNA before were used for validation (in parentheses). d Validation of PTex-enriched RNA-interactors: Salmonella strains expressing FLAG-tagged proteins were immunoprecipitated  ±UV irradiation. RNA-association is confirmed by radioactive labelling of RNA 5′ ends by polynucleotide kinase (T4 PNK) using autoradiography; a signal is exclusively detectable after UV-cross-linking and radiolabelling of precipitated RNA. CsrA-FLAG (pos. ctr.), YigA-FLAG (neg. ctr.), AhpC-FLAG, SipA-FLAG and YihI-FLAG are bound to RNA in vivo. e GO terms significantly enriched among the RNA-associated proteins; p -value derived from a one-tail Fisher Exact test 75 . For full gels/blots see Supplementary Figures  25 , 26
Techniques Used: Western Blot, SDS Page, Purification, Expressing, Immunoprecipitation, Irradiation, Autoradiography, In Vivo, Derivative Assay
2) Product Images from "High-throughput determination of RNA structure by proximity ligation"
Article Title: High-throughput determination of RNA structure by proximity ligation
Journal: Nature biotechnology
doi: 10.1038/nbt.3289
Figure Legend Snippet:
RNA Proximity Ligation identifies structurally proximate regions within the complex secondary structures of S. cerevisiae ribosomal RNAs. a.) A schematic representation of the RPL method. Whole cells are spheroplasted with zymolyase and RNA is allowed to react with endogenous RNases. RNA ends are repaired in situ via T4 PNK to yield 5′-phosphate termini. Complexes are ligated overnight in the presence of T4 RNA Ligase I. Ligation products are cleaned up via acid guanidinium-phenol and subsequent DNase treatment, and subjected to Illumina TruSeq RNA-seq library preparation. These libraries are sequenced to map and count ligation junctions; b.-c.) We examined the distribution of ligation junctions as a function of distance from known base-pair partners in the 25S/5.8S rRNA and 18S rRNAs. Ligation products capture the structural proximity implied by base-pairing relationships, as evidenced by the enrichment for ligation junctions immediately near paired bases. Y-axes are shown as ligation counts per million reads analyzed. d.) Contact probability map for the eukaryotic 5.8S/25S rRNA based on RPL scores, which are calculated from the frequencies of ligation events between pairs of 21 nt windows ( Methods ). Lower inset : Ligation events, shown for bases 1300 to 1475 of the LSU rRNA in orange, primarily occur across digested single-stranded loops. RPL scores effectively smooth this noisy signal and are enriched for pairs of interacting regions. Plotted here are the 8,463 ligation events where both nucleotides fall within the displayed domain (compared to 17,029 ligation events where one nucleotide falls within the displayed domain and one does not, not shown). Right inset: RPL scores localize known pseudo-knots in the LSU rRNA structure, such as the interaction between bases 1727-1812 (shown in red) and bases 1941 – 2038 (shown in blue).
Techniques Used: Ligation, In Situ, RNA Sequencing Assay
Related Articles
Amplification:
Synthesized:
Electrophoresis:
Modification:
Incubation:
Activity Assay:
Acrylamide Gel Assay:
Gel Purification:
High Performance Liquid Chromatography:
Ligation:
Footprinting:
Northern Blot:
Generated:
other:
DNA Labeling:
Sequencing:
Binding Assay:
Cellular Antioxidant Activity Assay:
RNA Sequencing Assay:
Fluorescence:
Isolation:
Labeling:
Purification:
Polymerase Chain Reaction:
Electrophoretic Mobility Shift Assay:
Concentration Assay:
Chloramphenicol Acetyltransferase Assay:
Random Hexamer Labeling:
Produced:
Immunoprecipitation:
End Labeling:
CTG Assay: