New England Biolabs is a verified supplier
New England Biolabs manufactures this product
---
Structured Review
New England Biolabs
rtcb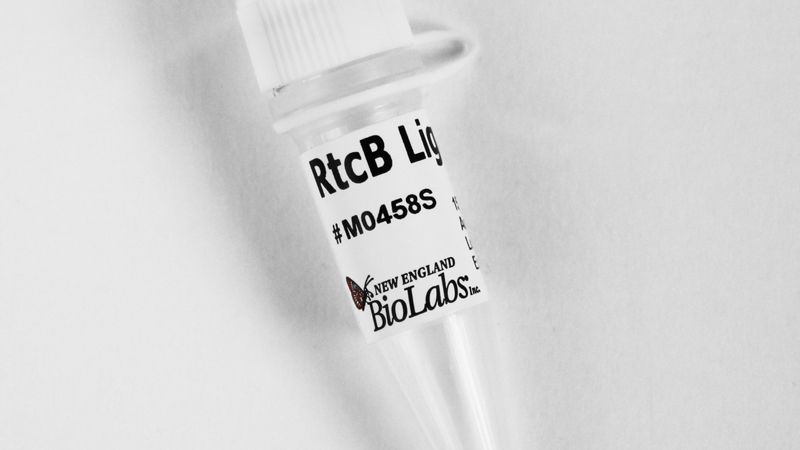 https://www.bioz.com/result/rtcb/product/New England Biolabs
Average

94

stars, based on

1

article reviews
Price from $

9.99

to $

1999.99
rtcb
- by
Bioz Stars
, 2021-07
Images
1) Product Images from "ELAC1 Repairs tRNAs Cleaved during Ribosome-Associated Quality Control"
Article Title: ELAC1 Repairs tRNAs Cleaved during Ribosome-Associated Quality Control
Journal: Cell reports
doi: 10.1016/j.celrep.2020.01.082
Figure Legend Snippet:
Requirements of Repairing ANKZF1-Cleaved tRNAs for CCA Addition (A) During ribosome-associated quality control (RQC), stalled ribosomes are dissociated to 60S and 40S ribosomal subunits. The 60S-peptidyl-tRNA complex is recognized by NEMF (teal) and Listerin (orange), which mediates polyubiquitination (Ub) of the nascent protein. ANKZF1 (purple) cleavage of the peptidyl-tRNA generates a ΔCCA tRNA with a 2',3'-cyclic phosphate (2',3' > p) on the discriminator base (N 73 ) that must be resolved before TRNT1 is able to add back the 3'CCA nucleotides (red). (B) A total of 2 ng/μL of in - vitro -transcribed radiolabeled leucyl-tRNA lacking the 3'CCA nucleotides appended to the hepatitis delta virus ribozyme (ΔCCA-HDV) was incubated with nothing to maintain a 2',3' > p ( > p), T4 PNK to generate 2' and 3' hydroxyl groups, CNP to generate a 2' phosphate (2'-p), or RtcB to generate a 3' phosphate (3'-p) on N 73 . The ΔCCA tRNA products were incubated with 100 nM TRNT1 and nucleotides directly (lanes 2–5) or after treatment with calf intestinal alkaline phosphatase (CIP) (lanes 6–8). The reactions were analyzed by SDS-PAGE and autoradiography to assay for the addition of 3'CCA nucleotides producing full-length (FL; red arrowheads) tRNA. Yellow arrowheads denote slower migration of ΔCCA tRNAs without a 2',3' > p. (C) Coomassie stain (top) of flow-through (FT) or salt-eluted fractions of reticulocyte lysate from heparin resin. Individual fractions were incubated with radiolabeled ΔCCA-HDV and TRNT1 to assay for FL tRNA production (bottom). Fractions with peak activity (red arrowheads) were pooled for further analyses. (D) Immunoblot of ELAC1 distribution through the fractions shown in (C). .
Techniques Used: In Vitro, Incubation, SDS Page, Autoradiography, Migration, Staining, Activity Assay
Related Articles
Purification:
Ligation:
Incubation:
Staining: