New England Biolabs is a verified supplier
New England Biolabs manufactures this product
NEBNext rRNA Depletion Kit Bacteria

The NEBNext rRNA Depletion Kits Bacteria employ the NEBNext RNase H based RNA depletion workflow to deplete ribosomal rRNA 5S 16S and 23S from gram positive and gram negative organisms The kit is effective with both intact and degraded RNA preparations from monocultures or samples with mixed bacterial species

RNA Purification Kit Components
---
---
Structured Review
New England Biolabs
rrna depletion kit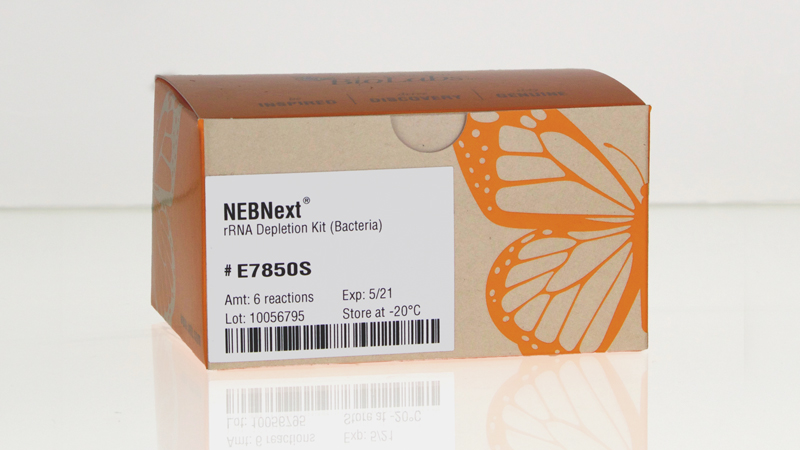 The NEBNext rRNA Depletion Kits Bacteria employ the NEBNext RNase H based RNA depletion workflow to deplete ribosomal rRNA 5S 16S and 23S from gram positive and gram negative organisms The kit is effective with both intact and degraded RNA preparations from monocultures or samples with mixed bacterial species
https://www.bioz.com/result/rrna depletion kit/product/New England Biolabs
Average

99

stars, based on

8

article reviews
Price from $

9.99

to $

1999.99
rrna depletion kit
- by
Bioz Stars
, 2020-04
---
Images
1) Product Images from "m6A enhances the phase separation potential of mRNA"
Article Title: m6A enhances the phase separation potential of mRNA
Journal: Nature
doi: 10.1038/s41586-019-1374-1
Figure Legend Snippet:
Confirmation of the Mettl14 knockout model and DF2 phase-separation into P-bodies in mES cells a , Mettl14 knockout (KO) mES cells are depleted in m 6 A RNA. We sought to independently confirm the depletion of m 6 A from mRNA in these cells, which were previously shown to have 99% reduction in m 6 A 19 . The TLC assay selectively quantifies m 6 A in a G-A-C context, thereby reducing the possibility of contamination of m 6 A from rRNA or snRNA, which are in a A-A-C or C-A-G context, respectively 38 . The protocol was performed as described previously 38 . Indicated in the TLC chromatograms is the relative position of m 6 A (dotted circle) and adenosine (A), cytosine (C), and uracil (U). Left and the right panels show radiochromatograms obtained from 2D-TLC of poly(A) RNA from wild-type and Mettl14 knockout cells. No m 6 A is detectable in the poly(A) RNA derived from Mettl14 knockout cells confirming the efficiency of m 6 A depletion in these cells. Experiments were performed in duplicate. mES cells are used here since m 6 A depletion can be readily achieved in Mettl14 knockout mES cells without impairing viability 19 . In contrast, m 6 A depletion cannot be readily achieved in immortalized cell lines as both Mettl3 and Mettl14 are essential for nearly all cell lines 52 . b , DF2 partitioning into stress granules induced by arsenite is impaired in m 6 A-deficient cells. This impairment is similar to that shown in stress granules induced by heat shock as seen in Figure 3a . Experiment was performed in triplicate.
Techniques Used: Knock-Out, Thin Layer Chromatography, Derivative Assay
Related Articles
Functional Assay:
Amplification:
RNA Sequencing Assay:
Isolation:
Next-Generation Sequencing:
Sequencing:
Flow Cytometry:
Quantitative RT-PCR:
Purification:
Real-time Polymerase Chain Reaction:
Concentration Assay:
Generated:
RNA Expression:
Expressing:
cDNA Library Assay:
Shotgun Sequencing:
Mouse Assay:
other: