New England Biolabs is a verified supplier
New England Biolabs manufactures this product
| | |
| --- | --- |
| LongAmp Taq PCR Kit 100 rxns | |
---
---
Structured Review
New England Biolabs
longamp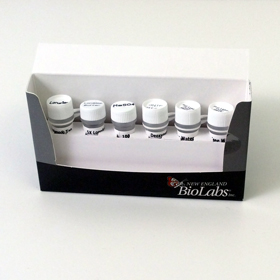 LongAmp Taq PCR Kit 100 rxns
https://www.bioz.com/result/longamp/product/New England Biolabs
Average

86

stars, based on

1

article reviews
Price from $

9.99

to $

1999.99
longamp
- by
Bioz Stars
, 2021-07
Images
1) Product Images from "In vitro synthesis of gene-length single-stranded DNA"
Article Title: In vitro synthesis of gene-length single-stranded DNA
Journal: Scientific Reports
doi: 10.1038/s41598-018-24677-5
Figure Legend Snippet:
ssDNA production by aPCR. ( a ) aPCR reactions were assembled with a 50-molar excess of a forward primer for the amplification of a 1,000 nt ssDNA fragment using the M13mp18 ssDNA plasmid as template, and with 10 different polymerases that were tested for highest yield of ssDNA production (upper band: expected dsDNA size is 1,000 bp; lower band: expected ssDNA size is 1,000 nt) as judged by agarose gel electrophoresis (right panel). QuantaBio AccuStart HiFi, polymerase (lane 2, boxed) produced the highest amount without overlapping dsDNA contaminants. 1. Accustart; 2. Accustart HiFi; 3. Accustart II; 4. AccuPrime; 5. GoTaq; 6. DreamTaq; 7. Phusion; 8. Platinum SuperFi; 9. Q5; 10. Tth polymerase. ( b ) Biochemical validation of ssDNA production by incubating 1,000 nt aPCR reaction products with the ssDNA-specific ExoI or S1 nucleases or dsDNA-specific restriction enzymes Eco RI and Nae I (left panel). Agarose gel electrophoresis of the digestion products as labeled by lane (right panel). M: Marker, C: aPCR product control, ExoI: exonuclease I, S1: S1 nuclease, Enz: Eco RI + Nae I. ( c ) NEB LongAmp was used to generate ssDNA up to 15,000 nt long using lambda phage dsDNA as template. Purification of the 10 kb fragment shows a single band of higher molecular weight than the M13mp18 ssDNA (7,249 nt). ( d ) The primer design algorithm aPrime was used to select primers for product sizes between 500 and 3,000 nt using M13mp18 ssDNA as template and the Quantabio Accustart HiFi enzyme. SYBR Safe stained agarose gels illuminated under blue light show dsDNA as yellow bands, while ssDNA show as orange bands.
Techniques Used: Amplification, Plasmid Preparation, Agarose Gel Electrophoresis, Produced, Labeling, Marker, Purification, Molecular Weight, Staining
Related Articles
Variant Assay:
Amplification:
Reverse Transcription Polymerase Chain Reaction:
Homologous Recombination:
Plasmid Preparation:
Polymerase Chain Reaction:
Southern Blot: