New England Biolabs is a verified supplier
New England Biolabs manufactures this product
| | |
| --- | --- |
| Exonuclease III E coli 25 000 units | |
---
---
Structured Review
New England Biolabs
e coli exonuclease iii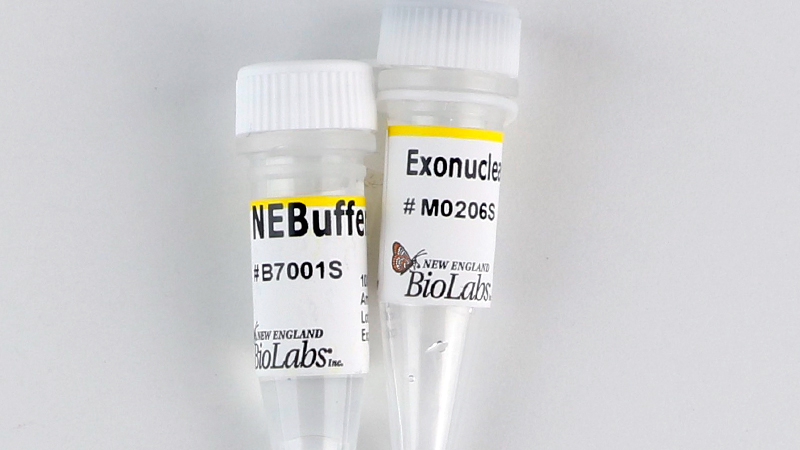 Exonuclease III E coli 25 000 units
https://www.bioz.com/result/e coli exonuclease iii/product/New England Biolabs
Average

99

stars, based on

2

article reviews
Price from $

9.99

to $

1999.99
e coli exonuclease iii
- by
Bioz Stars
, 2020-09
---
Images
1) Product Images from "Linking uracil base excision repair and 5-fluorouracil toxicity in yeast"
Article Title: Linking uracil base excision repair and 5-fluorouracil toxicity in yeast
Journal: Nucleic Acids Research
doi: 10.1093/nar/gkj430
Figure Legend Snippet:
DNA repair pathways implicated in 5-FU-mediated cell killing. The model is supported by the following observations: (i) a massive amount of uracil is incorporated into DNA, but the ung1 yeast are much less sensitive to 5-FU than the wild-type strain indicating that uracilated DNA is not the mediator of 5-FU toxicity; (ii) the apn1apn2ntg1ntg2 strain that is entirely defective in processing abasic sites by a BER mechanism is more sensitive to 5-FU, indicating that intact abasic sites (or repair products derived from abasic sites) have inherent toxicity; and (iii) the rad27 and apn1rad27 yeast strains show protection against 5-FU toxicity, suggesting the presence of a toxic repair intermediate downstream of the Rad27 flap endonuclease reaction. Several backup pathways for repair of abasic sites and 5′dRp groups are indicated. The lower path involving Apn2 and other BER enzymes is important in the absence of Apn1 and accounts for the efficient removal of abasic sites in the apn1 strain. NER and HR pathways are likely to be important with the apn1apn2ntg1ntg2 and rad27 knockout strains. Consistent with this, yeast deficient in both BER and NER are not viable.
Techniques Used: Derivative Assay, Knock-Out
Related Articles
Polymerase Chain Reaction:
Article Title: Identification of a novel proliferation-inducing determinant using lentiviral expression cloning
Article Snippet: .. All PCR reactions were conducted using DyNAzyme.EXT polymerase (Finnzymes, Oulu, Finland). pND-A2 and pND-A8 represent nested deletions of pPCR102-2 which were performed by restricting pPCR102-2 with KpnI and BamHI followed by Exonuclease III (NEB, Beverly, MA) mediated digestion at 37°C for 1, 2 and 3 min, respectively. ..
Concentration Assay:
Article Title: High-Discrimination Factor Nanosensor Based on Tetrahedral DNA Nanostructures and Gold Nanoparticles for Detection of MiRNA-21 in Live Cells
Article Snippet: .. For both human DNase I (Thermo Scientific) and exonuclease III (New England Biolabs) digestion, a common concentration of 3 U/mL was used to digest 2 nM Au-TDNNs samples in PBS. .. FAM fluorescence signals were monitored and recorded over a period of 3 h at 30 min intervals and at 37 °C.