New England Biolabs is a verified supplier
New England Biolabs manufactures this product
---
Structured Review
New England Biolabs
alwi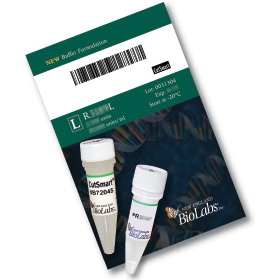 AlwI 2 500 units
https://www.bioz.com/result/alwi/product/New England Biolabs
Average

94

stars, based on

1

article reviews
Price from $

9.99

to $

1999.99
alwi
- by
Bioz Stars
, 2021-07
Images
Related Articles
other:
Article Title: Visualizing Sequence-Governed Nucleotide Selectivities and Mutagenic Consequences through a Replicative Cycle: Processing of a Bulky Carcinogen N2-dG Lesion in a Y-family DNA olymerase †
Article Snippet: The incubations of the duplexes with the restriction enzymes TspI and AlwI (4 units each) were carried out at 37 and 65°C, respectively, as described by the supplier (New England BioLabs Inc.).
Article Title: Addressing the link between paraoxonase-1 gene variants and the incidence of early onset myocardial infarction
Article Snippet: The nucleotide substitution corresponding to position 192 (Q/R) creates an AlwI (New England Biolabs) restriction site.
Polymerase Chain Reaction:
Article Title: Paraoxonase 1 R/Q alleles are associated with differential accumulation of saturated versus 20:5n3 fatty acid in human adipose tissue
Article Snippet: The reaction mix consisted of PCR buffer, 1.5 mM MgCl2 , 0.2 mM of each dNTP, 0.5 mM of each primer, and 1.2 units/reaction Taq DNA polymerase (Invitrogen). .. Approximately 2 μg of PCR product was digested with the appropriate restriction endonucleases at 37°C for 4 h. CYP1A1 was detected with MspI, PON1 L/M with NlaIII, and PON1 Q/R with AlwI (New England Biolabs). .. All PCR samples with an undigested or partial-digested result were submitted to redigestion with 20 units/reaction of enzyme and overnight incubation.
Article Title: Cell type-specific profiling of protein-DNA interactions without cell isolation using Targeted DamID with next-generation sequencing
Article Snippet: DpnII and DpnII buffer (NEB, cat. no. R0543S) Advantage 2 cDNA polymerase (Clontech, cat. no. 639201) (An alternative polymerase is MyTaq HS DNA Polymerase (Bioline, cat. no. BIO-21112); S. S. de Vries and B. van Steensel, personal communication.) .. ▲ CRITICAL STEP A polymerase with hotstart is required to prevent primer dimer formation during PCR AlwI (NEB, cat. no. R0513S) RNase A (DNase-free) (Roche, cat. no. 11119915001) diluted to 12.5μg/ml Qubit assay tubes (Invitrogen, cat. no. ) Qubit dsDNA HS assay kit, (Invitrogen, cat. no. ) Agilent reagents for TapeStation: Genomic DNA ScreenTape(5067-5365) and reagents (5067-5366) Agilent reagents for Bioanalyzer:Agilent DNA 1000 Kit (5067-1504) Agencourt AMPure XP Beads (Beckman Coulter, cat. no. A63880) (Seramag SpeedBeads, 3 EDAC/PA5 (Fisher Scientific, cat. no. 12326433) prepared using the method of Rohland and Reich, 2012 with 20%(w/v) PEG-8000 are a cost-effective alternative to AMPure XP beads) Quick ligase (NEB, cat. no. M2200S) T4 DNA ligase (400,000U/ml) and 10x buffer (NEB, cat. no. M0202S) T4 DNA polymerase (NEB, cat. no. M0203S) Klenow Fragment (NEB, cat. no. M0210S) Klenow 3' to 5' exo- (NEB, cat. no. M0541S) T4 polynucleotide kinase (NEB, cat. no. M0201S) NEBNext High-Fidelity 2X PCR Master Mix (NEB, cat. no. M0541S) dNTPs (NEB, cat. no. N0446S) .. Temperature controlled heat block capable of heating to 95°C.
Sonication:
Article Title: Novel CHD8 genomic targets identified in fetal mouse brain by in vivo Targeted DamID
Article Snippet: PCR amplification of DpnII-digested fragments using MyTaq (Bioline, BIO-21112) enriched for methylated fragments before samples were sonicated and prepped for sequencing. .. Sonicated samples were subjected to AlwI digestion (NEB, R0513S) to remove previously ligated adaptors and initial GATC sequences from fragments. .. A modified TruSeq protocol was used to generate sequencing libraries involving end repair, 3' end adenylation, sequencing adaptor ligation, and DNA fragment enrichment using a reduced number of PCR cycles.