New England Biolabs is a verified supplier
New England Biolabs manufactures this product
| | |
| --- | --- |
| Hi T7 RNA Polymerase is an engineered DNA dependent RNA polymerase that is highly specific for T7 phage promoters and is designed to function at higher temperatures than the wild type bacteriophage T7 RNA Polymerase Hi T7 RNA Polymerase functions at an optimal temperature of 50 52°C | |
---
---
Structured Review
New England Biolabs
t7 dna dependent rna polymerase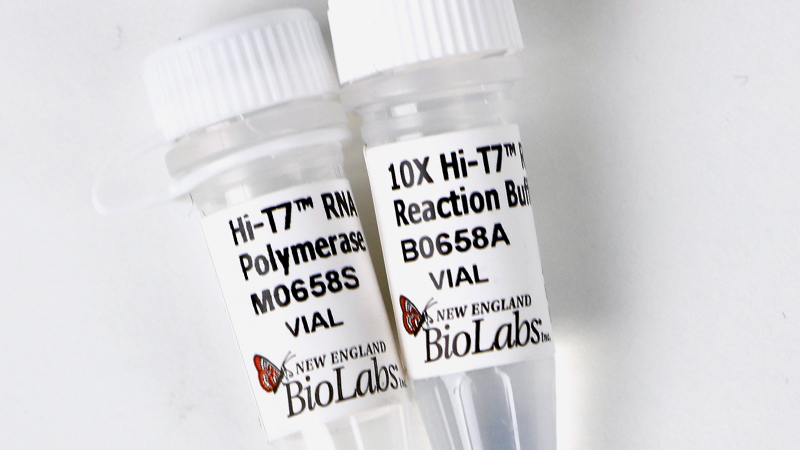 Hi T7 RNA Polymerase is an engineered DNA dependent RNA polymerase that is highly specific for T7 phage promoters and is designed to function at higher temperatures than the wild type bacteriophage T7 RNA Polymerase Hi T7 RNA Polymerase functions at an optimal temperature of 50 52°C
https://www.bioz.com/result/t7 dna dependent rna polymerase/product/New England Biolabs
Average

94

stars, based on

1

article reviews
Price from $

9.99

to $

1999.99
t7 dna dependent rna polymerase
- by
Bioz Stars
, 2020-05
---
Images
Related Articles
other:
Article Title: Synthesis of low immunogenicity RNA with high-temperature in vitro transcription.
Article Snippet: The thermostable T7 RNAPs (TsT7-1 – Hi-T7 RNA polymerase; New England Biolabs (Ong et al. 2017) and TsT7-2 – Thermostable T7 RNApolymerase; Toyobo Life Sciences (Liao et al. 2003; Sugiyama et al. 2003, 2009) were obtained from the respective manufacturers.
In Vitro:
Article Title: Inhibition of Filovirus Replication by the Zinc Finger Antiviral Protein ▿
Article Snippet: .. To generate an α-32 P-labeled riboprobe, 2 μl of the DNA template was used in a 20-μl in vitro transcription reaction mixture containing 1× transcription buffer, 25 U of T7 DNA-dependent RNA polymerase (New England BioLabs), 16 U RNaseOUT, 500 μM each of 5 mM ATP, 5 mM GTP, and 5 mM UTP, and 5 μl of [α-32 P]CTP (15 TBq/mmol; Hartmann Analytic GmbH). .. Prehybridization and hybridization were performed as described previously ( ).