New England Biolabs is a verified supplier
Endoglycosidase Reaction Buffer Pack

Endoglycosidase Reaction Buffer Pack 4 0 ml
---
---
Structured Review
New England Biolabs
endoglycosidase h reaction buffers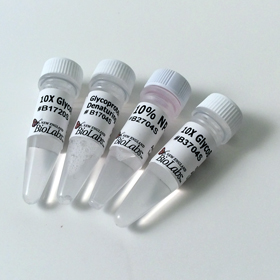 Endoglycosidase Reaction Buffer Pack 4 0 ml
https://www.bioz.com/result/endoglycosidase h reaction buffers/product/New England Biolabs
Average

90

stars, based on

5

article reviews
Price from $

9.99

to $

1999.99
endoglycosidase h reaction buffers
- by
Bioz Stars
, 2020-01
---
Images
1) Product Images from "Re-evaluation of neuronal P2X7 expression using novel mouse models and a P2X7-specific nanobody"
Article Title: Re-evaluation of neuronal P2X7 expression using novel mouse models and a P2X7-specific nanobody
Journal: eLife
doi: 10.7554/eLife.36217
Figure Legend Snippet:
Expression and functionality of the P2X7-EGFP constructs in HEK cells and expression of the transgene in mice. ( A ) The EGFP sequence was fused via a Strep-tag-His-tag linker to the very C-terminus of the mouse P2X7 sequence. (B/C) Protein extracts from transiently transfected (Lipofectamine 2000, Invitrogen) HEK cells (DSMZ (ACC 305), regularly tested for mycoplasma contamination) were separated by SDS-PAGE with endoglycosidase treatment as indicated. Gels were analyzed by western blotting with a P2X7-specific antibody (Alamone, extracellular) ( B ) or by direct EGFP-fluorescence scanning ( C ). ( D ) Normalized dose–response curves for ATP-induced ethidium uptake. HEK293 cells were cultured and transfected (2 μg DNA/well of a six-well-plate, Lipofectamin, Thermo Fisher Scientific). After 27 hr, cells were seeded in 96-well plates (5 × 10 4 cells/well) and incubated in the presence of 20 μM ethidium bromide in PBS for 15 min. Dye influx was evaluated with a fluorescence plate reader (Fluostar Galaxy, BMG) upon addition of the indicated ATP concentrations, as described ( Bruzzone et al., 2010 ). Lines represent nonlinear curve fits of the Hill equation to the data and were normalized to the calculated maximal responses. EC 50 values are 582 (CI 498–681), 840 (CI 644–1098) and 582 (CI 457–740) for wt (L variant) and EGFP-tagged L and P variants, respectively. Error bars represent SEM (n = 4–7). CI = 95% confidence interval. ( E ) Patch-clamp recordings from HEK cells transfected as above with wt and EGFP-tagged P2X7 (L variants). Recordings were performed as described ( Nicke et al., 2009 ) in normal or low divalent cation (DIC) containing extracellular solution to account for possible unspecific effects ( Nörenberg et al., 2016 ). Representative current traces from n > 3 cells are shown. Due to problems with the perfusion, one trace is incomplete (1 mM ATP for P2X7-EGFP in low DIC). ( F ) Southern blot controls for correct modification and integrity of the P2X7 BAC clone during subsequent homologous recombination steps. ( G ) Reproducibility and stability of endogenous and transgenic P2X7 protein expression. Protein extracts from four line 17 mice were separated by SDS-PAGE and quantified by western blotting and infrared imaging using antibodies against P2X7 (Synaptic Systems) and vinculin and fluorescent secondary antibodies. Data are presented as mean ±SD from four individual mice. No significant difference of endogenous P2X7 expression was found in two independent experiments.
Techniques Used: Expressing, Construct, Mouse Assay, Sequencing, Strep-tag, Transfection, SDS Page, Western Blot, Fluorescence, Cell Culture, Incubation, Variant Assay, Patch Clamp, Southern Blot, Modification, BAC Assay, Homologous Recombination, Transgenic Assay, Imaging
Related Articles
Centrifugation:
Amplification:
Confocal Microscopy:
Nucleic Acid Electrophoresis:
Pyrolysis Gas Chromatography:
Construct:
Incubation:
Expressing:
BIA-KA:
Modification:
Western Blot:
Countercurrent Chromatography:
Transfection:
Concentration Assay:
Protease Inhibitor:
Cell Culture:
other:
Imaging:
Polymerase Chain Reaction:
Recombinant:
Immunofluorescence:
High Performance Liquid Chromatography:
Fluorescence:
Mutagenesis:
Isolation:
Flow Cytometry:
Mouse Assay:
Sequencing:
Polyacrylamide Gel Electrophoresis:
Staining:
Activated Clotting Time Assay:
Purification:
SDS Page:
Software:
In Vitro:
Patch Clamp:
Immunoprecipitation:
DNA Purification:
CTG Assay:
Lysis:
Fluorescence In Situ Hybridization: