New England Biolabs is a verified supplier
New England Biolabs manufactures this product
| | |
| --- | --- |
| Exonuclease III E coli 25 000 units | |
---
---
Structured Review
New England Biolabs
exonuclease iii digestion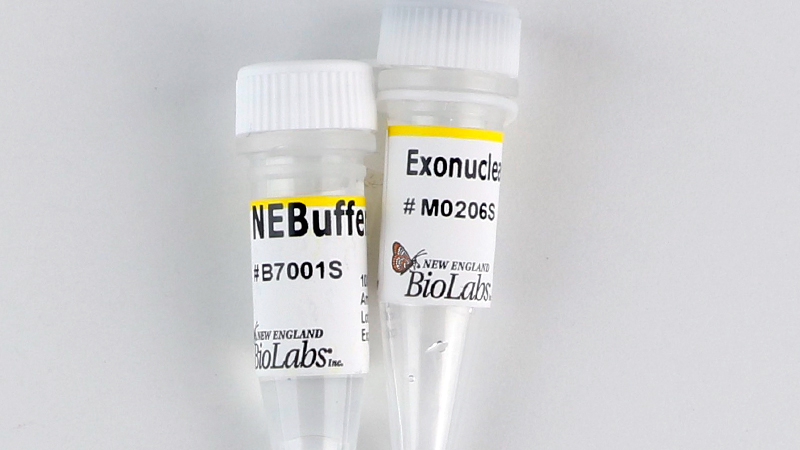 Exonuclease III E coli 25 000 units
https://www.bioz.com/result/exonuclease iii digestion/product/New England Biolabs
Average

99

stars, based on

5

article reviews
Price from $

9.99

to $

1999.99
exonuclease iii digestion
- by
Bioz Stars
, 2020-09
---
Images
Related Articles
Polymerase Chain Reaction:
Article Title: Identification of a novel proliferation-inducing determinant using lentiviral expression cloning
Article Snippet: .. All PCR reactions were conducted using DyNAzyme.EXT polymerase (Finnzymes, Oulu, Finland). pND-A2 and pND-A8 represent nested deletions of pPCR102-2 which were performed by restricting pPCR102-2 with KpnI and BamHI followed by Exonuclease III (NEB, Beverly, MA) mediated digestion at 37°C for 1, 2 and 3 min, respectively. ..
Concentration Assay:
Article Title: High-Discrimination Factor Nanosensor Based on Tetrahedral DNA Nanostructures and Gold Nanoparticles for Detection of MiRNA-21 in Live Cells
Article Snippet: .. For both human DNase I (Thermo Scientific) and exonuclease III (New England Biolabs) digestion, a common concentration of 3 U/mL was used to digest 2 nM Au-TDNNs samples in PBS. .. FAM fluorescence signals were monitored and recorded over a period of 3 h at 30 min intervals and at 37 °C.