New England Biolabs is a verified supplier
New England Biolabs manufactures this product
---
Structured Review
New England Biolabs
spei ecorv hf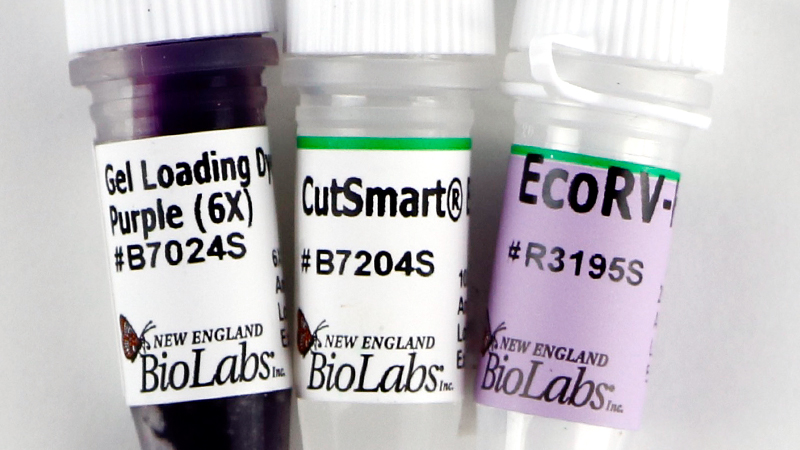 EcoRV HF 20 000 units
https://www.bioz.com/result/spei ecorv hf/product/New England Biolabs
Average

99

stars, based on

79

article reviews
Price from $

9.99

to $

1999.99
spei ecorv hf
- by
Bioz Stars
, 2020-08
---
Images
1) Product Images from "A single epidermal stem cell strategy for safe ex vivo gene therapy"
Article Title: A single epidermal stem cell strategy for safe ex vivo gene therapy
Journal: EMBO Molecular Medicine
doi: 10.15252/emmm.201404353
Figure Legend Snippet:
Isolation of genetically corrected recessive dystrophic epidermolysis bullosa (RDEB) epidermal stem cells Single cells were isolated from a mass culture (passage V) of RDEB keratinocytes infected with SIN retroviruses bearing a COL7A1 cDNA. Clonal types were determined (Barrandon Green, 1987 ) and listed in Supplementary Table S1. Growing clones were expanded for further characterisation. COLVII detection in clones by immunostaining. COLVII expression (green) was detectable in some clones (6, 17, 22, 58 and 61) and not in others (3, 24 and 54); nuclei were stained with Hoechst 33342 (blue). Dotted lines delimit the periphery of keratinocyte colonies from the surrounding irradiated 3T3-J2 feeder cells. Scale bar: 50 μm. Quantitative RT–PCR analysis of COL7A1 expression in transduced clones compared to untransduced RDEB keratinocytes. All clones shown in (A) were transduced but expressed different levels of COL7A1 transcripts. Clones 6, 17, 22, 54, 58 and 61 expressed higher levels of COL7A1 than control RDEB cells and keratinocytes obtained from healthy donors (YF29 and OR-CA, control 1 and 2, respectively). The level of COL7A1 expression in the RDEB untransduced cells was referenced as 1. Determination of proviral rearrangements in transduced clones. A Southern blot was performed using genomic DNA of RDEB cells, clones and the infected mass culture from which the clones were isolated. Genomic DNA was digested with EcoRV and SpeI that cut at the 3′ and 5′ end of the provirus (Supplementary Fig S2) and hybridised with a 907-bp COL7A1 probe radiolabelled with 32 P isotope. The upper band corresponded to the endogenous signal. The retroviral producer line Flp293A-E1aColVII1 was used as a control for the digested 9.6-kb provirus (proviral signal). Smaller bands corresponded to rearranged proviruses marked with an asterisk. Identification of stem cells producing COLVII. Western blotting revealed that only clone 6 secreted COLVII in the culture supernatant, while clone 54 and surprisingly clone 22 did not (see A). RDEB cells were used as a negative control and healthy donor cells as a positive control. The secreted matrix metalloproteinase 2 (MMP2) was used as a loading control.
Techniques Used: Isolation, Infection, Clone Assay, Immunostaining, Expressing, Staining, Irradiation, Quantitative RT-PCR, Southern Blot, Western Blot, Negative Control, Positive Control
2) Product Images from "The Development of a Viral Mediated CRISPR/Cas9 System with Doxycycline Dependent gRNA Expression for Inducible In vitro and In vivo Genome Editing"
Article Title: The Development of a Viral Mediated CRISPR/Cas9 System with Doxycycline Dependent gRNA Expression for Inducible In vitro and In vivo Genome Editing
Journal: Frontiers in Molecular Neuroscience
doi: 10.3389/fnmol.2016.00070
Figure Legend Snippet:
(A) AAV vector maps depicting AAV-P Tight -Cas9 and AAV-gRNA/rtTA. AAV-P Tight -Cas9 consists of a Cas9 transgene under the control of a Dox inducible Tight promoter. AAV-gRNA/rtTA consists of a gRNA expression cassette and a rtTA (Tet-On Advanced) transgene controlled by a CMV promoter. It also is designed to express GFP via an IRES element following the rtTA reading frame. (B) ICC for Cas9 and GFP was performed on 293FT cells transduced by AAV-P Tight -Cas9 and AAV-gRNA/rtTA viruses in the presence or absence of Dox. Native GFP expression is visible in virtually all of the cells (i, iii). Cas9 expression is robustly induced in the presence of Dox (ii), compared to the no Dox condition (iv). Representative images are shown. The experiment was repeated twice with similar results. (C) Diagram depicting the approximate location of where the Tet2 gRNA targets the Tet2 locus. Underlined nucleotides indicate the sequence of the Tet2 gRNA. Location of the EcoRV site and PAM sequence are denoted. (D) An approximate 460 bps region of the Tet2 locus that includes the site targeted for editing via the gRNA Tet2 , was PCR amplified from N2A genomic DNA and electrophoresed on a standard agarose gel and stained with ethidium bromide (lane 1). N2A cells were transfected with the pX330 Empty , a plasmid designed to express spCas9 and no gRNA, and 96 h later, the genomic DNA was isolated and the Tet2 locus was PCR amplified and subjected to EcoRV digestion. The PCR product was cut into two pieces of DNA as expected (lane 2). However, when N2A cells were transfected with pX330 Tet2 and similarly processed, the PCR product was incompletely digested resulting in a total of three bands on the gel - one uncut PCR product (~460 bps) and two smaller bands. In this case the genome editing was ~33%. (E) Edited DNA depicted in ( D , lane 3) was gel purified and TA cloned and 6 independent clones were sequenced. These 6 clones contained deletions which destroyed the EcoRV site.
Techniques Used: Plasmid Preparation, Expressing, Immunocytochemistry, Sequencing, Polymerase Chain Reaction, Amplification, Agarose Gel Electrophoresis, Staining, Transfection, Isolation, Purification, Clone Assay
Related Articles
Amplification:
Ligation:
Ethanol Precipitation:
Concentration Assay:
Luciferase:
Expressing:
Polymerase Chain Reaction:
Plasmid Preparation: