New England Biolabs is a verified supplier
New England Biolabs manufactures this product
---
Structured Review
New England Biolabs
bsrdi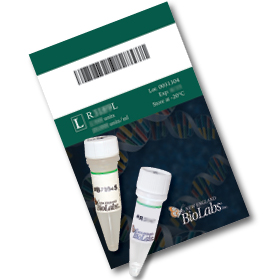 BsrDI 1 000 units
https://www.bioz.com/result/bsrdi/product/New England Biolabs
Average

95

stars, based on

1

article reviews
Price from $

9.99

to $

1999.99
bsrdi
- by
Bioz Stars
, 2021-04
Images
1) Product Images from "Hepatitis B virus cccDNA is formed through distinct repair processes of each strand"
Article Title: Hepatitis B virus cccDNA is formed through distinct repair processes of each strand
Journal: Nature Communications
doi: 10.1038/s41467-021-21850-9
Figure Legend Snippet:
Repair of HBV lesions on plus- and minus-strands require different sets of protein factors. a Characteristics of HBV rcDNA structure. b Schematic representation of the generation of recombinant HBV rcDNA (RrcDNA) substrates that contain all lesions (RrcDNA) or only lesions on the plus- (psl-RrcDNA) or minus-strands (msl-RrcDNA). HBV plasmids contains a plasmid backbone (gray) and either the minus strand sequence (black) or the plus-strand sequence (blue). BsrDI cleavage was used to monitor the generation of various RrcDNA substrates (BsrDI restriction sites are indicated by magenta arrows); green line, biotinylated flap; B, biotin; red line, RNA primer. Note that M1 and M2 are two oligos released from the minus-strands of RrcDNA precursor and RrcDNA after BsrDI digestion, whereas P1 and P2 are two oligos released from the plus-strands after BsrDI digestion. c Annealing products of psl-RrcDNA and msl-RrcDNA precursors were monitored by Sybr Safe staining. d Generation of various RrcDNA precursors was analyzed by formation of M2 and P2 oligos from the corresponding M1 and P1 oligos after BsrDI digestion and urea-PAGE gel electrophoresis followed by Sybr Gold staining. Please note that psl-RcDNA and msl-RrcDNA only contain annealed oligos on the plus-strand and minus strand, respectively. Almost complete conversion from P1 to P2 (psl-RcDNA, lanes 5–6), and M1 to M2 (msl-RcDNA, lanes 3–4) was observed. e All five human protein factors are required for repair of the lesions on the plus-strand. Psl-RrcDNA was mixed with combinations of purified proteins, and cccDNA formation was detected on agarose gels containing ethidium bromide (EtBr). Omission of factors is indicated by "−". f FEN-1 and LIG1 are necessary and sufficient for repair of lesions on the minus strand. Omission of factors is indicated by "−". The percentage of cccDNA formed (% repaired) was calculated by dividing the intensity of the ccc band by the sum of the intensities of the RrcDNA, linear RrcDNA and cccDNA bands. The absolute values are displayed above each lane number. Rrc, RrcDNA; rL, recombinant linear RrcDNA; ccc, cccDNA. All experiments were repeated twice with the same results. Source data are provided as a Source Data file.
Techniques Used: Recombinant, Plasmid Preparation, Sequencing, Staining, Polyacrylamide Gel Electrophoresis, Nucleic Acid Electrophoresis, Purification, Countercurrent Chromatography
Related Articles
Electrophoresis:
Polymerase Chain Reaction:
Incubation:
Antiviral Assay:
Purification:
Nucleic Acid Electrophoresis:
Clone Assay:
Plasmid Preparation:
Variant Assay: