New England Biolabs is a verified supplier
New England Biolabs manufactures this product
---
Structured Review
New England Biolabs
r0543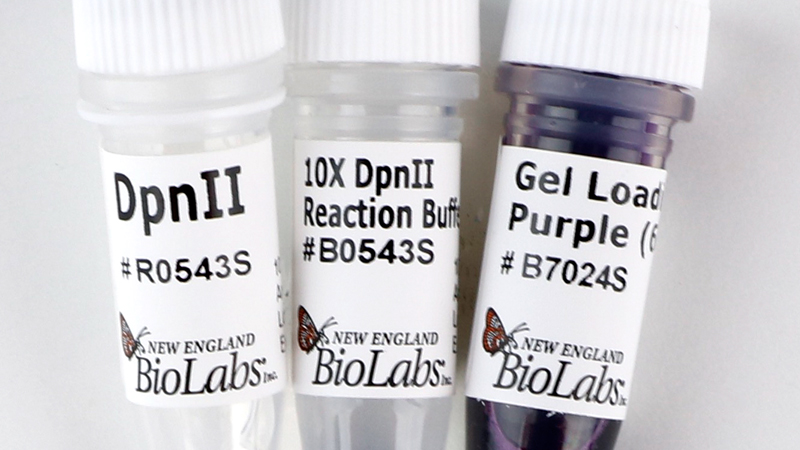 DpnII 5 000 units
https://www.bioz.com/result/r0543/product/New England Biolabs
Average

98

stars, based on

1

article reviews
Price from $

9.99

to $

1999.99
r0543
- by
Bioz Stars
, 2021-02
Images
Related Articles
Produced:
Article Title: Back-spliced RNA from retrotransposon binds to centromere and regulates centromeric chromatin loops in maize
Article Snippet: .. 3C in maize The 3C sample was produced according to a previously described method [ ], and the DNA was digested with the enzyme DpnII (NEB, Category Number R0543). ..
Methylated DNA Immunoprecipitation:
Article Title: Retroviral Integration Mutagenesis in Mice and Comparative Analysis in Human AML Identify Reduced PTP4A3 Expression as a Prognostic Indicator
Article Snippet: .. MeDIP Ten µg genomic DNA was digested overnight with 100 U of DpnII (New England Biolabs, Ipswich, MA, USA). .. Four µg digested DNA was denatured for 10′ at 95°C and incubated with either 2.5 µg anti-5-methylcytidine (BI-MECY-1000, Eurogentec, Liège, Belgium) or mouse pre-immune IgG (Sigma-Aldrich, Zwijndrecht, The Netherlands) in 500 µL IP-buffer (PBS with 0.05% Triton X-100) for 2 hrs at 4°C, followed by incubation with 30 µL of washed beads (M-280 sheep-anti-mouse IgG, Invitrogen, San Diego, CA, USA) for 2 hrs at 4°C.