New England Biolabs is a verified supplier
New England Biolabs manufactures this product
| | |
| --- | --- |
| Phusion GC Buffer Pack 6 0 ml | |
---
---
Structured Review
New England Biolabs
phusion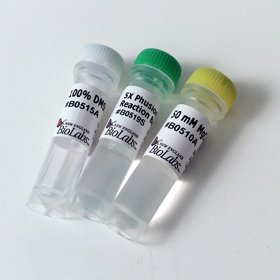 Phusion GC Buffer Pack 6 0 ml
https://www.bioz.com/result/phusion/product/New England Biolabs
Average

99

stars, based on

1

article reviews
Price from $

9.99

to $

1999.99
phusion
- by
Bioz Stars
, 2021-05
Images
1) Product Images from "RF-Cloning.org: an online tool for the design of restriction-free cloning projects"
Article Title: RF-Cloning.org: an online tool for the design of restriction-free cloning projects
Journal: Nucleic Acids Research
doi: 10.1093/nar/gks396
Figure Legend Snippet:
RF-Cloning.org output page. (1) A unique 32 byte hash code is generated for all new projects, and is present in the URL for bookmarking purposes. (2) The hybrid primers are color coded, blue for sequence complementary to the plasmid, and green for the insert. The length of the primers can be adjusted by clicking on the arrow buttons if the user wishes to alter the annealing temperature. (3) If the insert site needs to be adjusted, the user can use the provided arrow buttons. (4) The secondary PCR conditions are optimized for iProof or Phusion as the polymerase, so the user should follow manufacturer's instructions if using another high fidelity enzyme. 'Insert' refers to the mega-primer purified from the primary PCR reaction. (5) The entire sequence of the new plasmid is output, with insert in green and parental plasmid in blue. (6) The plasmid map can be drawn by specifying the positions of markers manually, or by auto-finding common features. Restriction enzyme cut sites can also be specified or automatically identified. If desired, the plasmid can be exported as a genbank file. (7) All projects are automatically saved, but making changes to the output page will activate the save button so those changes can be uploaded to the database. If the user has registered an account to access the plasmid management system, the save button will attach the project to their profile. (8) After the project has been completed and sent for sequencing, the sequencing results can be copied into a popup window for BLAST2 sequence alignment.
Techniques Used: Clone Assay, Polyacrylamide Gel Electrophoresis, Generated, Sequencing, Plasmid Preparation, Polymerase Chain Reaction, Purification
Related Articles
Polymerase Chain Reaction:
Hybridization:
Amplification:
Concentration Assay: