New England Biolabs is a verified supplier
New England Biolabs manufactures this product
---
Structured Review
New England Biolabs
mannosidase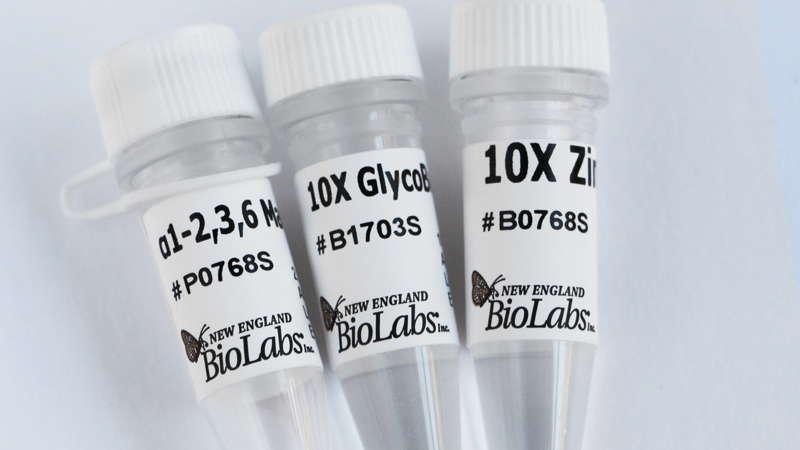 https://www.bioz.com/result/mannosidase/product/New England Biolabs
Average

94

stars, based on

1

article reviews
Price from $

9.99

to $

1999.99
mannosidase
- by
Bioz Stars
, 2021-09
Images
Related Articles
other:
Article Title: A Peptide–Lectin Fusion Strategy for Developing a Glycan Probe for Use in Various Assay Formats
Article Snippet: EndoH and a1-2,3,6 Mannosidase obtained from New England Biolabs were used for the gp120 samples in the right and left lane, respectively, using the manufactures recommended reaction conditions.
Article Title: Yeast surface display of full-length human microtubule-associated protein tau.
Article Snippet: 2.3 | Deglycosylation of yeast-displayed tau Deglycosylation of yeast surface displayed tau was performed using PNGase (New England Biolabs (NEB), Cat. No. P0704S) and α1-2,3,6 Mannosidase (NEB, Cat. No. P0768S).
Article Title: Comparison of N-linked glycosylation on hemagglutinins derived from chicken embryos and MDCK cells: a case of the production of a trivalent seasonal influenza vaccine
Article Snippet: For enzymatic cleavage of glycans, PA-labeled glycans were digested with endoglycosidase H (Endo Hf) (New England Biolab, #P0703S, US) or α1-2,3,6 mannosidase (New England Biolab, #P0768S, US) at 37 °C overnight and inactivated at 95 °C for 10 min.