New England Biolabs is a verified supplier
New England Biolabs manufactures this product
| | |
| --- | --- |
| PNGase F native 75 000 units | |
---
---
Structured Review
New England Biolabs
p0704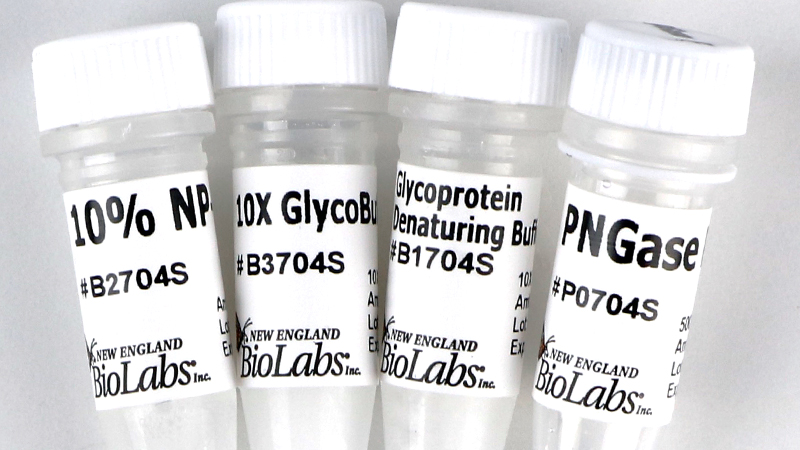 PNGase F native 75 000 units
https://www.bioz.com/result/p0704/product/New England Biolabs
Average

98

stars, based on

1

article reviews
Price from $

9.99

to $

1999.99
p0704
- by
Bioz Stars
, 2021-03
Images
Related Articles
Centrifugation:
Article Title: Lectin microarray and mass spectrometric analysis of hepatitis C proteins reveals N-linked glycosylation
Article Snippet: The ultrafiltration retentate was digested with sequencing-grade trypsin (Promega, Madison, WI) overnight at 37°C. .. The resulting polypeptides were collected by centrifugation and further digested with PNGase F (New England BioLabs, Ipswich, MA) overnight at 37°C. .. The envelope protein of purified HCVcc was digested with glycosidase as described in the Supplementary Materials and Methods sections.
other:
Article Title: Organelle-specific Subunit Interactions of the Vertebrate Two-pore Channel Family *
Article Snippet: Strikingly, although the ∼85-kDa band in the mCherry-hTPC2 pulldown sample was reduced in size by treatment with PNGase F, indicating glycosylation of HA-hTPC2, those in the mCherry-hTPC1, rTPC3, and cTPC3 pulldown samples were largely unaffected ( B , right panel ).
Incubation:
Article Title: Biochemical properties of thyroid peroxidase (TPO) expressed in human breast and mammary-derived cell lines
Article Snippet: .. Finally, the reaction mixture was supplemented with PNGase F (New England Biolabs, Hitchin, UK) and incubated at 37°C for 16 hours. .. Control reactions were performed without PNGase F using the same assay conditions.