New England Biolabs is a verified supplier
New England Biolabs manufactures this product
pBR322 DNA Msp I Digest 250 gel lanes

DNA Molecular Weight Markers
---
---
Structured Review
New England Biolabs
pbr322 dna msp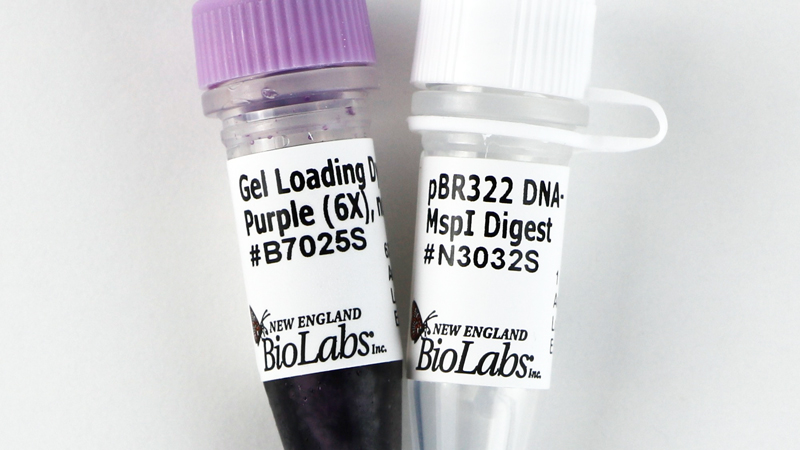 pBR322 DNA Msp I Digest 250 gel lanes
https://www.bioz.com/result/pbr322 dna msp/product/New England Biolabs
Average

94

stars, based on

7

article reviews
Price from $

9.99

to $

1999.99
pbr322 dna msp
- by
Bioz Stars
, 2020-02
---
Images
1) Product Images from "Fast IPSCs in rat thalamic reticular nucleus require the GABAA receptor ?1 subunit"
Article Title: Fast IPSCs in rat thalamic reticular nucleus require the GABAA receptor ?1 subunit
Journal: The Journal of Physiology
doi: 10.1113/jphysiol.2006.106617
Figure Legend Snippet:
Cells with fast initial decay kinetics express β 1 subunit mRNA A and B , scatter plots of IPSC 90%-width versus peak current amplitude for two RTN cells recorded on the same day. Each point in A and B represents an individual IPSC. A is a recording from a cell dominated with slow and small IPSCs (○) and B , represents a recording dominated by brief and large IPSCs ( ). C , ensemble averaged IPSCs averaged from isolated spontaneous inhibitory events (selected on the basis of having arisen from an event-free baseline and showing complete decay to the same baseline) for the two cells represented in A (black, n = 258) and B (grey, n = 217). Each trace was best fitted to two exponentials (dotted line superimposed on each trace). Note: the cell dominated with fast IPSCs yielded a ensemble averaged IPSC with a larger A 1 value than A 2 whereas the opposite is true for the slower cell. D , ethidium bromide stained 8% polyacrylamide gel showing single-cell RT-PCR analysis from five RTN cells examined in one day of recording, two of the cells are represented in A (lane 3) and B (lane 7). Cells positive for the β 1 subunit cDNA showed a solitary band at 162 bp after two rounds of amplification using nested primers (lanes 6 and 7, see methods). Lanes 1 and 2 are water and media controls that underwent reverse transcription along with individual cells in lanes 3 through 7; lane 8 is a positive control using 40 pg of total RNA; lanes 9 and 10 are water controls used in the master mix for each round of PCR amplification. The molecular weight marker in lane 11 is the Msp I digest of pBR322. The size of each fragment is noted on the right. The parameters for β 1 negative cells in lane 4: A 1 = 9.80, τ 1 = 13.75, A 2 = 14.17, τ 2 = 64.61, τ DW = 43.82l; and lane 5: A 1 = 12.94, τ 1 = 12.94, A 2 = 5.69, τ 2 = 77.21, τ DW = 29.63. The β 1 positive cell in lane 6: A 1 = 18.05, τ 1 = 15.11, A 2 = 4.15, τ 2 = 74.44, τ DW = 26.20.
Techniques Used: Isolation, Staining, Reverse Transcription Polymerase Chain Reaction, Amplification, Positive Control, Polymerase Chain Reaction, Molecular Weight, Marker
Related Articles
Clone Assay:
Amplification:
Expressing:
Positive Control:
Nuclear Magnetic Resonance:
Activity Assay:
Mass Spectrometry:
Acrylamide Gel Assay:
Derivative Assay:
Transfection:
Sequencing:
Chromatography:
Concentration Assay:
Transferring:
other:
Negative Control:
Polymerase Chain Reaction:
Molecular Weight:
Nucleic Acid Electrophoresis:
Mutagenesis:
Isolation:
Silver Staining:
RNA Extraction:
Labeling:
Mouse Assay:
Reverse Transcription Polymerase Chain Reaction:
Purification:
Plasmid Preparation:
Multiplex Assay:
Agarose Gel Electrophoresis:
Size-exclusion Chromatography:
Incubation:
Produced:
Activation Assay:
Marker:
Staining: