New England Biolabs is a verified supplier
New England Biolabs manufactures this product
| | |
| --- | --- |
| PhiX174 Virion DNA 250 ug | |
---
---
Structured Review
New England Biolabs
phix174 virion dna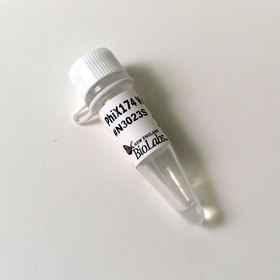 PhiX174 Virion DNA 250 ug
https://www.bioz.com/result/phix174 virion dna/product/New England Biolabs
Average

93

stars, based on

14

article reviews
Price from $

9.99

to $

1999.99
phix174 virion dna
- by
Bioz Stars
, 2020-05
---
Related Products / Commonly Used Together
---
Images
1) Product Images from "Metagenomic Assay for Identification of Microbial Pathogens in Tumor Tissues"
Article Title: Metagenomic Assay for Identification of Microbial Pathogens in Tumor Tissues
Journal: mBio
doi: 10.1128/mBio.01714-14
Figure Legend Snippet:
PathoChip assay performance assessed using positive-control DNA. (A) Whole-genome amplification kits that feature three different enzymatic processes were compared in their abilities to detect phiX174 bacteriophage genomic DNA spiked into human DNA. 1× DNA was equivalent to the molarity for a single-copy locus in the human genome. Green bars are the median Cy3 signal for the 14 phiX174 probes hybridized to test samples, and red bars show the median Cy5 signal from control samples (human DNA only). Error bars indicate standard deviations across probes. (B) Detection responses for three viruses were measured over a dilution series from 10,000 to 10 genomic copies per sample. Genomic DNA for each virus was spiked into a reference amount of human DNA. Blue bars are the average Cy3 signals for all probes to the indicated viruses hybridized to test samples, and white lines indicate the probes' Cy5 average from control samples (human DNA only). (C) Human cytomegalovirus (CMV) DNA was hybridized to a PathoChip containing 299 probes for saturation tiling across the reference CMV genome (NCBI accession NC_006273 ). The DNA was from CMV AD169, a strain that differs from the reference sequence at several locations, and was spiked into a background of human DNA for cohybridization with reference human DNA only (xhh). Red numerals indicate example probes for positive detection (1), low signal due to sequence polymorphisms (2, 3, and 4), and missing signal due to deletion in AD169 (5 and 6).
Techniques Used: Positive Control, Whole Genome Amplification, Sequencing
Figure Legend Snippet:
Confirmation of HPV16 detection. (A) The heat map indicates test minus xhh signals for every HPV16 probe (columns) from PathoChip assays of the OSCC samples (rows). Row numbers are indicated for samples that are examples of no HPV16 signal (2021 and 2023), hybridization to nearly all probes (2022 and 2024), or hybridization to a smaller subset of probes (2032, 2035, 2053, and 2061). Probe locations are indicated relative to the transcript map for early (E) and late (L) genes, and black arrows show the positions of forward (f) and reverse (r) PCR primers. Probe names in boxes correspond to the oligomers used for capture bead enrichment and deep sequencing (cap-seq) of samples that were pooled as marked by the right axis bars. The histogram shows the sum of cap-seq reads that mapped to the HPV16 genome from all sample pools; the x axis shows map coordinates scaled to match the transcript map. (B) PCR using the forward (fwd) and reverse (rev) primers shown in panel a detected at least one HPV16 region in samples with hybridization to most or some PathoChip HPV16 probes and no detection in samples that were negative for PathoChip signal or were no-template controls. The m1 marker is phiX174 HaeIII digest, and the m2 marker contains the four amplicons produced from a plasmid carrying the HPV16 genome. (C) The individual reads obtained from cap-seq are shown for the sample pools from panel A. Pool 1 contained seven samples with low or no hybridization signal to HPV16 probes in PathoChip screening assays; 71% of the remaining samples were positive for PathoChip HPV16 detection. Whole-genome amplified DNA plus cDNA was hybridized to a set of six biotinylated HPV16 probes, captured on streptavidin beads, and used for tagmentation library preparation and deep sequencing with paired-end 250-nt reads. (Tagmentation is the process of tagging the fragmented DNA generated during library perpetration.) Reads (gray arrows) that map to the HPV16 reference genome sequence (blue) cluster around the capture probe locations (red segments in the 1-kb coordinate map), but templates up to 3 kb away from a capture probe were also recovered.
Techniques Used: Hybridization, Polymerase Chain Reaction, Sequencing, Marker, Produced, Plasmid Preparation, Amplification, Generated
2) Product Images from "Coupling of Human DNA Excision Repair and the DNA Damage Checkpoint in a Defined in Vitro System *"
Article Title: Coupling of Human DNA Excision Repair and the DNA Damage Checkpoint in a Defined in Vitro System *
Journal: The Journal of Biological Chemistry
doi: 10.1074/jbc.M113.542787
Figure Legend Snippet:
EXO1-dependent ATR Activation. A , a model system for excision repair-checkpoint coupling. ATR kinase reactions were carried out with ATR-ATRIP, TopBP1, RPA, and EXO1 as indicated. 0.6 ng (27 p m ) single-stranded φX174 DNA ( ssDNA ), plasmid DNA (
Techniques Used: Activation Assay, Recombinase Polymerase Amplification, Plasmid Preparation
3) Product Images from "Expression, Purification and Biochemical Evaluation of Human RAD51 Protein"
Article Title: Expression, Purification and Biochemical Evaluation of Human RAD51 Protein
Journal: Methods in enzymology
doi: 10.1016/bs.mie.2017.11.011
Figure Legend Snippet:
Three Strand Exchange Recombinase Assay A Active RAD51 nucleoprotein filament is formed on ϕX174 Virion circular ssDNA in reaction conditions permitting ATP hydrolysis followed by addition of RPA which helps remove secondary structures in the ssDNA allowing stable nucleoprotein filament formation. The RAD51 nucleoprotein then invades ϕX174 RFI linear dsDNA to form nicked circular dsDNA products through several joint-molecule intermediates showing various stages of branch migration. The RPA also helps sequester any free displaced ssDNA following strand exchange thereby preventing a reverse reaction. B . Typical agarose gel image from a strand exchange assay used to resolve the substrates, intermediates and the products of the reaction over a time course of 0, 30, 60, 120 and 180 minutes. In reactions containing the wild type protein, nicked circular products can be observed as early as 30 minutes. C. Quantitation of the strand exchange assay gel showing appearance of nicked circular products (black) and joint molecules (blue) on the left Y axis. Disappearance of the linear dsDNA substrate (red) is quantitated on the right Y axis. Time in minutes is indicated on the X axis.
Techniques Used: Recombinase Polymerase Amplification, Migration, Agarose Gel Electrophoresis, Quantitation Assay
Related Articles
Ethanol Precipitation:
Labeling:
Purification:
Polymerase Chain Reaction:
Generated:
Infection:
IA: