New England Biolabs is a verified supplier
New England Biolabs manufactures this product
| | |
| --- | --- |
| T4 Polynucleotide Kinase 2 500 units | |
---
---
Structured Review
New England Biolabs
pnk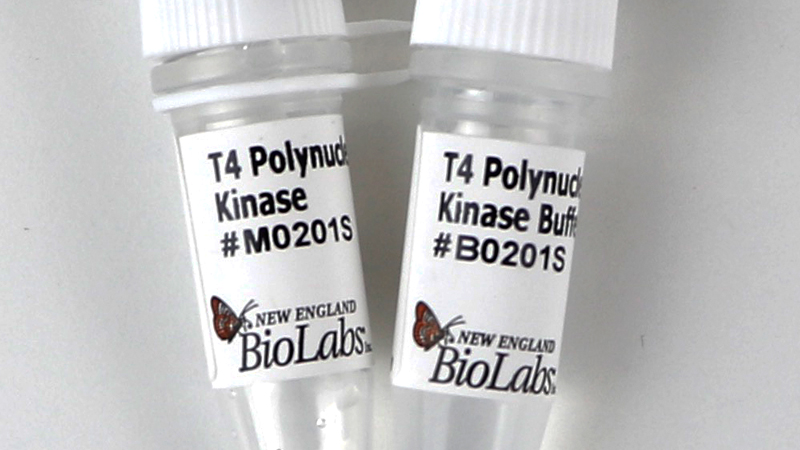 T4 Polynucleotide Kinase 2 500 units
https://www.bioz.com/result/pnk/product/New England Biolabs
Average

99

stars, based on

1

article reviews
Price from $

9.99

to $

1999.99
pnk
- by
Bioz Stars
, 2021-05
Images
1) Product Images from "Nucleobase modification by an RNA enzyme"
Article Title: Nucleobase modification by an RNA enzyme
Journal: Nucleic Acids Research
doi: 10.1093/nar/gkw1199
Figure Legend Snippet:
Identification of nucleotidyl adduct. ( A ) MALDI-TOF mass spectrometry of input substrate d3.1 (top left), 5΄-thiophosphorylated d3.1 that was generated by treatment with ATPγS and PNK (bottom left), ribozyme-catalyzed product that was formed by treatment of d3.1 with K28min and GTPγS (top right), and acid-decomposition of the ribozyme-catalyzed product (bottom right). The M–H peaks produced by each treatment are indicated: blue triangles, 6784.28 m/z (expected 6782.17 a.m.u for input d3.1 substrate); magenta triangles, 6880.38 m/z (expected 6878.11 a.m.u for mono-thiophosphorylated d3.1); green triangles, 7322.00 m/z (expected 7319.10 a.m.u for adduct shown in panel F top); red triangles, 7225.3 m/z (expected 7223.16 a.m.u for adduct shown in panel F bottom). ( B ) Incorporation of α- 32 P label into unlabeled acceptor strand. Controls in first two lanes show 5΄- 32 P-labeled d3.1 substrate alone (NR) or incubated with ribozyme K28min and GTPγS (sP). For remaining lanes, non-radiolabeled d3.1 substrate was incubated with ribozyme K28min and [α- 32 P]GTP for 5 min before adding the indicated amount of unlabeled GTP. Reactions were performed at 10°C for 18 h. ( C ) Thiophosphorylation reactions containing the indicated combinations of ribozyme, substrate and donor were treated with sodium periodate, followed by amination with Cy3 hydrazide dye. For the sample in Lane 4, the product of the ribozyme-catalyzed reaction was purified from an APM gel prior to the dye labeling reaction. Gel was scanned for Cy3 fluorescence (Ex. 532 nm Em. 570 nm). Phosphorimages are of 20% denaturing PAGE.
Techniques Used: Mass Spectrometry, Generated, Produced, Labeling, Incubation, Purification, Fluorescence, Polyacrylamide Gel Electrophoresis
Related Articles
Labeling:
Polymerase Chain Reaction:
Amplification:
Ligation:
Purification: