New England Biolabs is a verified supplier
New England Biolabs manufactures this product
Gibson Assembly Master Mix

Gibson Assembly Master Mix 50 rxns

Cloning and Expression Systems
---
---
Structured Review
New England Biolabs
human starr seq backbone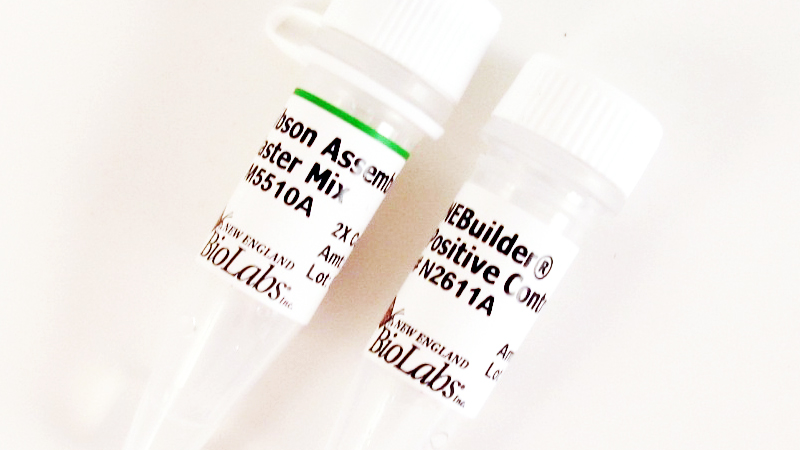 Gibson Assembly Master Mix 50 rxns
https://www.bioz.com/result/human starr seq backbone/product/New England Biolabs
Average

94

stars, based on

13180

article reviews
Price from $

9.99

to $

1999.99
human starr seq backbone
- by
Bioz Stars
, 2020-04
---
Images
1) Product Images from "Functional testing of thousands of osteoarthritis-associated variants for regulatory activity"
Article Title: Functional testing of thousands of osteoarthritis-associated variants for regulatory activity
Journal: Nature Communications
doi: 10.1038/s41467-019-10439-y
Figure Legend Snippet:
Schematic of massively parallel reporter assay. a For each GWAS-lead SNP, we identified all SNPs in LD with r 2 > 0.8. Colored lines indicate SNPs in the same LD block. b For all SNPs, we extracted 196 nt of genomic sequence centered at the SNP, and separately synthesized the minor (hollow circle) and major alleles, flanked by common adaptor sequences (cyan and purple). c , d We amplified our library from the array via PCR with primers directed at the common adaptors, in the process appending five nt degenerate barcodes (black lines) and additional sequences homologous to the vector (cyan). We cloned our barcoded library of all major and minor alleles into the STARR-seq vector. Each putative regulatory region is cloned into the 3′-UTR of a reporter gene (cyan) with a minimal promoter (dark blue). e We transfected our library into Saos-2 cells via electroporation. Forty-eight hours post transfection, we extracted RNA and DNA. f We determined the abundance of each allele–barcode combination in the mRNA and DNA population through sequencing. For each allele, we calculated one activity score as the average log 2 (RNA/DNA) across all independent measurements
Techniques Used: Reporter Assay, GWAS, Blocking Assay, Sequencing, Synthesized, Amplification, Polymerase Chain Reaction, Plasmid Preparation, Clone Assay, Transfection, Electroporation, Activity Assay
2) Product Images from "Targeting Somatostatin Receptors By Functionalized Mesoporous Silica Nanoparticles - Are We Striking Home?"
Article Title: Targeting Somatostatin Receptors By Functionalized Mesoporous Silica Nanoparticles - Are We Striking Home?
Journal: Nanotheranostics
doi: 10.7150/ntno.23826
Figure Legend Snippet:
SSTR2, 3 and 5 expression in cell lines employed in the study: indirect immunolabelling in a flow cytometry analysis. SSTR2, 3 and 5 immunolabelling results in paraformaldehyde (PFA)-fixed and saponin-permeabilized HEK293 and BON1 cells, along with matched control stains in viable non-permeabilized HEK293 cells are presented on panels A and B, respectively. As all the anti-SSTR antibodies (Abs) employed in the series on panel A target native epitopes within C -tails of the receptors (confined to cytoplasmic compartment), the cells were fixed with PFA and permeabilized with saponin before immunolabelling. Conversely, the immunolabelling of the cells on panel B involved primary Ab against distinct tags within extracellular N -termini of SSTRs, hence no permeabilization was required and the staining was done on viable non-permeabilized cells. Noteworthy, the pattern of signal from matched samples stained for the same target with Abs against its different epitopes (Abs to intracellular C -tails of receptors on panel A vs Abs to tags within extracellular domains of the same receptors on panel B) is almost identical, which signifies specificity of the data. Bimodal appearance of the populations on histograms, especially obvious in case of SSTR3- and 5-overexpressing cells, is explained by the oligoclonal nature of the cultures, with the resulting distribution being formed by progeny of two (or more) dominant clones. Staining for β-tubulin, a component of a cytoskeleton, on panels A and B was implemented as a positive or negative control of permeabilization, respectively. The cells were analyzed on LSRII cytometer; at least 15 000 of the gated events were captured. Every image represents an overlay histogram of two samples: black transparent charts stand for either non-stained controls or fully stained samples; shaded green charts reflect the corresponding secondary antibody - only stained controls. x-axis denotes sample emission [(505 nm longpass)/(530/30 nm bandpass)] upon stimulation with 488 nm laser; y-axis indicates the number of events registered. The data from a single representative experiment (performed in duplicate) is shown; the complete series has been independently performed at least three times.
Techniques Used: Expressing, Flow Cytometry, Cytometry, Staining, Clone Assay, Negative Control
3) Product Images from "Functional characterization of enhancer evolution in the primate lineage"
Article Title: Functional characterization of enhancer evolution in the primate lineage
Journal: Genome Biology
doi: 10.1186/s13059-018-1473-6
Figure Legend Snippet:
Schematic of Experimental Design. a We identified potential hominoid-specific enhancers by intersecting hominoid-specific ChIP-seq predicted enhancers from primary human liver with ChromHMM-predicted strong enhancers in HepG2 cells (screenshot from http://genome.ucsc.edu ) [ 54 ]. We then tiled across each candidate enhancer using 194 nt sequences and identified 697 tiles that were active in the STARR-seq reporter assay in HepG2 cells. b We located orthologous sequences in 11 primates and computationally reconstructed 9 ancestral sequences for 348 of the active tiles, using New World monkeys as an outgroup. c We then cloned all 20 present-day or ancestral orthologs per tile and performed STARR-seq again in HepG2 cells. After collecting DNA and RNA from cells, we calculated enrichment scores as the log 2 ratio of RNA to DNA for each ortholog. Each shade of red represents a different ortholog tested
Techniques Used: Chromatin Immunoprecipitation, Reporter Assay, Clone Assay
Related Articles
Clone Assay:
Amplification:
Whole Genome Amplification:
Synthesized:
Construct:
Incubation:
Expressing:
Transformation Assay:
Derivative Assay:
Electroporation:
Ligation:
Protease Inhibitor:
Cell Culture:
Generated:
Polymerase Chain Reaction:
Sonication:
Binding Assay:
Cleavage Assay:
Mutagenesis:
Purification:
Sequencing:
Gel Extraction:
Activated Clotting Time Assay:
SPR Assay:
Plasmid Preparation:
Recombinant:
In Vitro:
Produced:
Concentration Assay:
DNA Purification:
CTG Assay:
Lysis: