New England Biolabs is a verified supplier
New England Biolabs manufactures this product
---
Structured Review
New England Biolabs
restriction enzyme diluent buffer a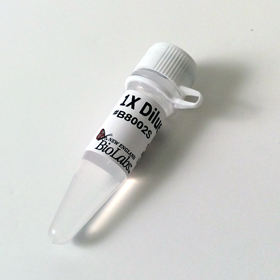 Diluent B 5 0 ml
https://www.bioz.com/result/restriction enzyme diluent buffer a/product/New England Biolabs
Average

93

stars, based on

23

article reviews
Price from $

9.99

to $

1999.99
restriction enzyme diluent buffer a
- by
Bioz Stars
, 2021-02
---
Related Products / Commonly Used Together
---
Images
Related Articles
other:
Article Title: DNA recognition by the SwaI restriction endonuclease involves unusual distortion of an 8 base pair A:T-rich target
Article Snippet: This was chromatographed with Column Buffer containing a gradient of NaCl from 50 mM to 1 M. Active fractions were pooled, dialyzed into 'Diluent B' (New England Biolabs: 10 mM Tris pH 7.4, 300 mM NaCl, 50% glycerol, 0.1 mM EDTA, 1 mM DTT), loaded onto a Superdex-75 size-exclusion column, and eluted with Column Buffer containing 300 mM NaCl.
Article Title: Structure and mutagenesis of the DNA modification-dependent restriction endonuclease AspBHI
Article Snippet: Titrations of AspBHI were done using dilution buffer (diluent B, NEB).
Article Title: Elimination of inter-domain interactions increases the cleavage fidelity of the restriction endonuclease DraIII
Article Snippet: Fidelity Index (FI) determination To measure the FI of Dra III and its mutants, a two-fold dilution series of the concentrated protein stock solution was made using Diluent B (300 mmol/L NaCl, 10 mmol/L Tris-Cl, 0.1 mmol/L EDTA, 1 mmol/L dithiothreitol, 500 μg/mL BSA, 50% glycerol; NEB) to give 21 decreasing concentrations of the enzyme (1×, 0.5×, 0.25×, etc.).
Article Title: Phenotypic screening using synthetic CRISPR gRNAs reveals pro-regenerative genes in spinal cord injury
Article Snippet: Cas9 was diluted to 7 μM with diluent buffer B (NEB, Ipswich USA) on arrival and stored at −20 °C.
Article Title: Programmable downsizing of CRISPR-Cas9 activity for precise and safe genome editing
Article Snippet: Cas9 protein (IDT) was suspended with a Diluent B (NEB) to make 1 μM solution.
Purification:
Article Title: Expression and purification of the modification-dependent restriction enzyme BisI and its homologous enzymes
Article Snippet: .. The partially purified REases were further diluted to 1 mg/ml with NEB restriction enzyme diluent buffer A (50 mM KCl, 10 mM Tris-HCl, pH 7.4, 0.1 mM EDTA, 1 mM DTT, 200 μg/ml BSA, 50% glycerol) and stored at −20 °C. .. His-tagged Rfl17I enzyme was partially purified from Ni-NTA affinity columns (Superflow Ni-agarose beads, Qiagen).