nebuffer set 1 1 2 1 3 1 and cutsmart (New England Biolabs)
New England Biolabs is a verified supplier
New England Biolabs manufactures this product
NEBuffer Set 1 1 2 1 3 1 and CutSmart

NEBuffer Set 1 1 2 1 3 1 and CutSmart 6 0 ml
---
---
Structured Review
New England Biolabs
nebuffer set 1 1 2 1 3 1 and cutsmart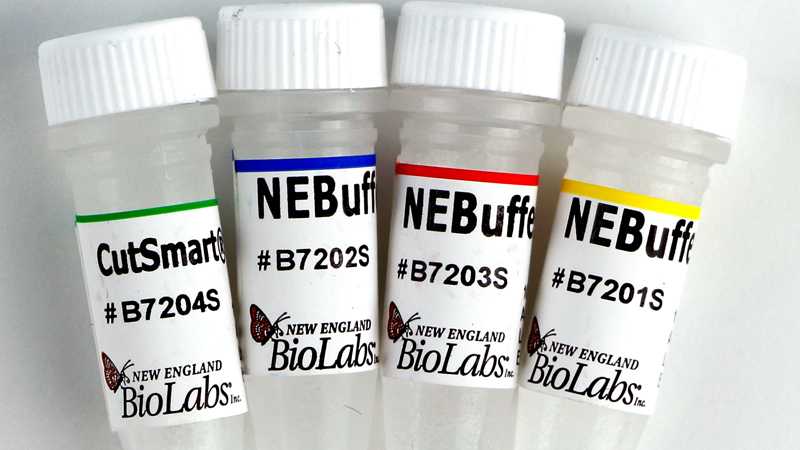 NEBuffer Set 1 1 2 1 3 1 and CutSmart 6 0 ml
https://www.bioz.com/result/nebuffer set 1 1 2 1 3 1 and cutsmart/product/New England Biolabs
Average

92

stars, based on

4

article reviews
Price from $

9.99

to $

1999.99
nebuffer set 1 1 2 1 3 1 and cutsmart
- by
Bioz Stars
, 2020-07
Images
Related Articles
Isolation:
Article Title: Structural and spatial chromatin features at developmental gene loci in human pluripotent stem cells
Article Snippet: .. The isolated nuclei were washed twice with 500 μl of 1× cutsmart buffer (NEB B7200S). ..
Incubation:
Article Title: Biochemically diverse CRISPR-Cas9 orthologs
Article Snippet: .. Cas9 and sgRNA were then combined in a 2:1 sgRNA:Cas9 molar ratio in reaction buffer at room temperature for 10 min. Substrate was added next at a Cas9:sgRNA:DNA ratio of 10:20:1 and incubated for 30 min. For buffer optimization and spacer length preference experiments, 1X NEBuffers 1.1, 2.1, 3.1, or CutSmart (NEB B7200S) were used as reaction buffers and incubations took place at 37°C. .. For thermoactivity experiments, reactions were performed in NEBuffer 3.1.