nebnext dsdna fragmentase reaction buffer v2 (New England Biolabs)
New England Biolabs is a verified supplier
New England Biolabs manufactures this product
NEBNext dsDNA Fragmentase Reaction Buffer v2

NEBNext dsDNA Fragmentase Reaction Buffer v2 6 0 ml
---
---
Structured Review
New England Biolabs
nebnext dsdna fragmentase reaction buffer v2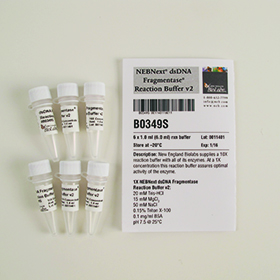 NEBNext dsDNA Fragmentase Reaction Buffer v2 6 0 ml
https://www.bioz.com/result/nebnext dsdna fragmentase reaction buffer v2/product/New England Biolabs
Average

94

stars, based on

2

article reviews
Price from $

9.99

to $

1999.99
nebnext dsdna fragmentase reaction buffer v2
- by
Bioz Stars
, 2020-07
---
Related Products / Commonly Used Together
---
Images
Related Articles
Incubation:
Article Title: Detecting clinically actionable variants in the 3′ exons of PMS2 via a reflex workflow based on equivalent hybrid capture of the gene and its pseudogene
Article Snippet: .. In the first, applied to patient samples, LR-PCR amplicons were fragmented by adding 2 μL NEBNext dsDNA Fragmentase and NEBNext dsDNA Fragmentase Reaction Buffer v2 (1× final, NEB) to the remaining LR-PCR reaction volume, and then incubated at 37 °C for 25 min. ..
other:
Article Title: A GT-seq panel for walleye (Sander vitreus) provides a generalized workflow for efficient development and implementation of amplicon panels in non-model organisms
Article Snippet: DNA shearing was conducted using a 12.5 μl fragmentase reaction.