New England Biolabs is a verified supplier
New England Biolabs manufactures this product
Exonuclease I Reaction Buffer

Exonuclease I Reaction Buffer 6 0 ml
---
---
Structured Review
New England Biolabs
λ exonuclease reaction buffer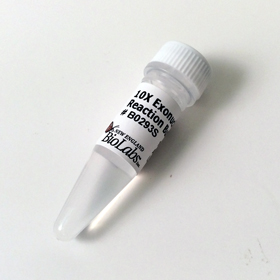 Exonuclease I Reaction Buffer 6 0 ml
https://www.bioz.com/result/λ exonuclease reaction buffer/product/New England Biolabs
Average

95

stars, based on

38

article reviews
Price from $

9.99

to $

1999.99
λ exonuclease reaction buffer
- by
Bioz Stars
, 2020-02
---
Related Products / Commonly Used Together
---
Images
1) Product Images from "Simplified ChIP-exo assays"
Article Title: Simplified ChIP-exo assays
Journal: Nature Communications
doi: 10.1038/s41467-018-05265-7
Figure Legend Snippet:
ChIP-exo 5.0 increases library yield. a Schematic of ChIP-exo 5.0. The purple triangle indicates the location of the Read_1 start site, which is also the λ exonuclease stop site. b 2% agarose gel of the electrophoresed library following 18 cycles of PCR for various S. cerevisiae transcription factors assayed by ChIP-exo 1.1 or 5.0. Following ChIP, the sample was split and libraries prepared using the indicated protocols. After splitting the sample, each reaction contained a 50 ml cell equivalent (OD 600 = 0.8) of yeast chromatin, which is five-fold less than the amount optimized for ChIP-exo 1.1. ChIP-exo 5.0 produced greater library yield for all samples. c Heatmaps comparing ChIP-exo 1.1 and 5.0 at the 975 Reb1 primary motifs in a 200 bp window. d Composite plot of data from panel ( c )
Techniques Used: Chromatin Immunoprecipitation, Agarose Gel Electrophoresis, Polymerase Chain Reaction, Produced
2) Product Images from "Simplified ChIP-exo assays"
Article Title: Simplified ChIP-exo assays
Journal: Nature Communications
doi: 10.1038/s41467-018-05265-7
Figure Legend Snippet:
ChIP-exo 5.0 increases library yield. a Schematic of ChIP-exo 5.0. The purple triangle indicates the location of the Read_1 start site, which is also the λ exonuclease stop site. b 2% agarose gel of the electrophoresed library following 18 cycles of PCR for various S. cerevisiae transcription factors assayed by ChIP-exo 1.1 or 5.0. Following ChIP, the sample was split and libraries prepared using the indicated protocols. After splitting the sample, each reaction contained a 50 ml cell equivalent (OD 600 = 0.8) of yeast chromatin, which is five-fold less than the amount optimized for ChIP-exo 1.1. ChIP-exo 5.0 produced greater library yield for all samples. c Heatmaps comparing ChIP-exo 1.1 and 5.0 at the 975 Reb1 primary motifs in a 200 bp window. d Composite plot of data from panel ( c )
Techniques Used: Chromatin Immunoprecipitation, Agarose Gel Electrophoresis, Polymerase Chain Reaction, Produced
Related Articles
Methylation Sequencing:
Clone Assay:
Amplification:
Quantitative RT-PCR:
Real-time Polymerase Chain Reaction:
Incubation:
Expressing:
Flow Cytometry:
Concentration Assay:
Digital PCR:
Generated:
Polymerase Chain Reaction:
Binding Assay:
Nucleic Acid Electrophoresis:
Fluorescence:
Isolation:
Size-exclusion Chromatography:
Purification:
Sequencing:
CRISPR:
cDNA Library Assay:
Software:
Multiplex Assay:
Agarose Gel Electrophoresis:
Next-Generation Sequencing:
Activation Assay:
Marker:
FACS: