New England Biolabs is a verified supplier
New England Biolabs manufactures this product
Exonuclease I Reaction Buffer

Exonuclease I Reaction Buffer 6 0 ml
---
---
Structured Review
New England Biolabs
exonuclease reaction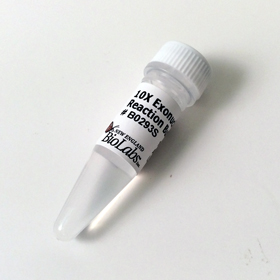 Exonuclease I Reaction Buffer 6 0 ml
https://www.bioz.com/result/exonuclease reaction/product/New England Biolabs
Average

99

stars, based on

38

article reviews
Price from $

9.99

to $

1999.99
exonuclease reaction
- by
Bioz Stars
, 2020-09
---
Related Products / Commonly Used Together
---
Images
Related Articles
Polymerase Chain Reaction:
Article Title: ChIP-seq: using high-throughput sequencing to discover protein-DNA interactions
Article Snippet: .. Exonuclease digestion of linkers on phosphorylated LMPCR library: Mix directly on ice in a PCR tube: 8.5 μl sample; 1 μl 10 × reaction buffer (NEB, B0262S) and 0.5 μl Lambda exonuclease (NEB, M0262S). .. Digest for 10 min at 37 °C in a PCR block.
Article Title: Decontamination of 16S rRNA gene amplicon sequence datasets based on bacterial load assessment by qPCR
Article Snippet: .. The primers from the first round of PCR were removed by digesting 5-μl samples with 1 unit Exonuclease I (New England Biolabs, Ipswich, MA, USA) in a total volume of 10 μl Exonuclease I Reaction Buffer (New England Biolabs) at 37 °C for 30 min. .. The enzyme was inactivated at 95 °C for 15 min. Amplicon barcoding was performed by re-amplification using 1 μl of Exonuclease I-treated first-round PCR, 15 pmol each of forward primer 5'-NNNNNNNNNNTCCTACGGGNGGCWGCAG-3' and reverse primer 5'- NNNNNNNNNNTGACTACHVGGGTATCTAAKCC-3' in a 20-μL volume of MyTaq buffer that contained 1.5 units MyTaq DNA polymerase (Bioline, London, UK) and 2 μl of BioStab PCR optimizer (II) (Sigma-Aldrich, Munich, Germany).
Incubation:
Article Title: Esrrb is a cell cycle dependent priming factor balancing between pluripotency and differentiation
Article Snippet: .. To remove unused primers and primer dimers, the reaction product was combined with 20 μl digestion mix containing 5 μl ExoI (NEB, M0293S), 5 μl HinFI (NEB, R0155S), 5 μl ExoI buffer (NEB, B0293S), 5 μl CutSmart buffer (NEB, B7204S), and 30 μl nuclease-free water and incubated for 1 hour at 37 °C and 10 minutes at 80 °C. .. The reaction product (in the form of a cDNA:RNA hybrid) was purified with 1.5x reaction volume of AMPure XP beads (Beckman Coulter, A63881) and eluted in 13.5 μl TE buffer.
other:
Article Title: Wnt/PCP-primed intestinal stem cells directly differentiate into enteroendocrine or Paneth cells
Article Snippet: Exonuclease I treatment was performed to clean up the reaction by adding a 6μl reaction mix containing 0.6μl reaction buffer, 1.2μl Exonuclease I (New England BioLabs, #M0293S) and 4.2μl nuclease-free water.
Article Title: Spatial distribution and function of T follicular regulatory cells in human lymph nodes
Article Snippet: Preamplified samples were subjected to an exonuclease reaction, using Exonuclease I and Exonuclease I Reaction Buffer (New England Biolabs).
Article Title: Transcriptional Regulation and Mechanism of SigN (ZpdN), a pBS32-Encoded Sigma Factor in Bacillus subtilis
Article Snippet: An assembly master mixture was made by combining prepared 5× isothermal assembly reaction buffer (131 mM Tris-HCl, 13.1 mM MgCl2 , 13.1 mM DTT, 8.21 mM PEG 8000, 1.32 mM NAD, and 0.26 mM [each] dNTP) with Phusion DNA polymerase (New England BioLabs) (0.033 units/μl), T5 exonuclease diluted 1:5 with 5× reaction buffer (New England BioLabs) (0.01 units/μl), Taq DNA ligase (New England BioLabs) (5,328 units/μl), and additional dNTPs (267 μM).
Article Title: Barcoded solid-phase RNA capture for Spatial Transcriptomics profiling in mammalian tissue sections.
Article Snippet: Spatial resolution of gene expression enables gene expression events to be pinpointed to a specific location in biological tissue.
Article Title: Detection of 16S rRNA and KPC Genes from Complex Matrix Utilizing a Molecular Inversion Probe Assay for Next-Generation Sequencing
Article Snippet: For the exonuclease reaction 20 units of exonuclease I (NEB), 25 units of exonuclease III (NEB), and water were added to the reaction mixture up to a final volume to 11.5 μl.